Construction of London 2012 Olympic Arena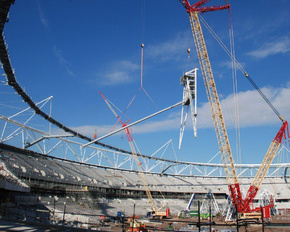 Project: Erection of steel frameworks for the London Olympic Stadium.
Equipment: Liebherr LR11350, LR1600, LR1300 and LTR1100.
Activity: Construction of the stadium involved Weldex crawler cranes erecting all steel frameworks. A major challenge in the installation of the rooftop lighting towers was in lifting the columns over the inner steel framework ring and ensuring the feet were then at the correct height and angle to be secured at points on the inner and outer framework rings. This was achieved by utilising two hook blocks on one crane simultaneously.