Installation of Heat Recovery Steam Generator (HRSG) Boilers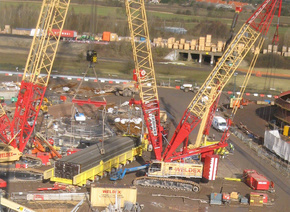 Project: Installation of HRSG boilers for one of the largest combined cycle gas turbine power stations in the UK.
Equipment: Weldex supplied cranes from 40 tonne to 600 tonne capacity and a 640 tonnes capacity SPMT unit. Weldex provided full project management and execution under a CPA Contract Lift Agreement.
Activity: Site transportation and erection of numerous HRSG components including tandem lifting.