London TBM Installation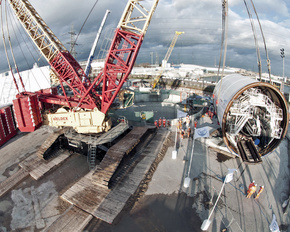 Project: The Thames Water Lee Tunnel is the first stage of improvement to London's waste water system. The tunnel, with internal diameter of 7.2m and length of 6.9km has been constructed at an average depth of 75m below ground.
Equipment: Liebherr LR11350 on a contract lift basis for the installation of the TBM. 100 to 300 tonnes capacity crawler cranes for excavation of shafts and tunnels.
Activity: Weldex carried out multiple lifts during the assembly of access shafts to a depth of 84 metres. Weldex cranes then lowered the 880 tonne tunnel boring machine (TBM) to a depth of 84 metres via the access shaft.